The mobile revolution continues to transform the media industry, and analytics firm Flurry (now a Yahoo subsidiary has some hard numbers from American mobile device users to show the details. In the second quarter of 2015, "American consumers spent, on average, 3 hrs and 40 minutes per day on their mobile devices. That is a 35 percent increase in time spent from one year ago and a 24 percent increase from Q4 2014. In just six short months, the average time American consumers spend on their phones each day increased by 43 minutes," said SVP publishing Simon Khalaf in a blog post.
There are 175 million Americans with at least one mobile device now, and since November of 2014 that aggregate is spending an extra 125 million hours per day on their devices. That's an impressive growth after seven years of growth, and it's made mobile the top media channel for Americans — at least by time spent per day.
How that time is spent is also important. Only 10 percent of it is spent in a mobile browser, so apps are obviously king. Social, Messaging, and Entertainment are more than 50 percent of mobile time, growing an amazing 240 percent year over year. Part of that growth came at the expense of gaming, with its share declining from 32 percent of mobile time to 15 percent (dropping from 52 minutes per day to 33 minutes per day).
Khalaf believes that drop in gaming is due to three factors: lack of new hits, millennials shifting to watching games instead of playing, and gamers spending more time on fewer games by buying their way to the top.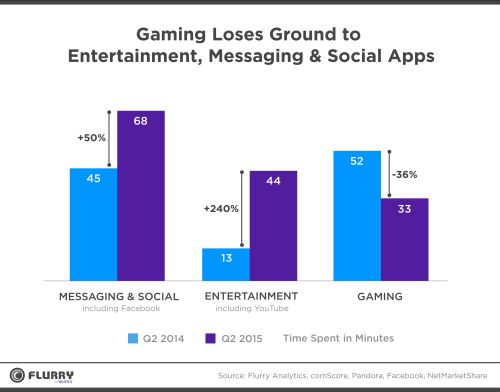 It is somewhat daunting when you realize, as VentureBeat pointed out, that the top-grossing games of 2015 are mostly the same as the top-grossing games of a few years ago. The top tiers of mobile gaming seem to be very hard to break into, and if people are spending less time playing mobile games, where's your opportunity to make money Any problem usually also represents an opportunity, and in this case it's breaking through the clutter and the boredom with more innovative and engaging mobile games. Where these games will come from and what they will look like is unknown, but the opportunity is there — and there's certainly no lack of companies trying to take advantage of that opportunity.